Yoga and Wellness in the workplace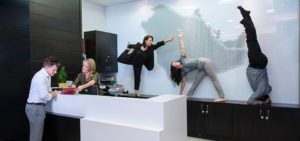 Due to the demands of modern day life, many of us find it difficult to make a yoga class or find the motivation isn't there to get up and go once home.  Workplace  yoga fits around your schedule. Classes are generally one hour and can be run just before the beginning of work, immediately after or even shorter session during lunch breaks. Classes are open to all ages and abilities.
The cost of a class can be paid individually by the employees or by the company, either the full amount or subsidized. Generally, I advise giving one class a try and if the employees feel like this is something they can benefit from I encourage investing in a 5-10 class bundle. A clear space, comfortable clothing and an open mind is all that is needed to hold a class, i provide plenty of mats. Alternatively if space is limited there is always the option of seated yoga.  If you don't have space or numbers for a full class you could approach neighboring businesses to see if they would like to create a yoga cooperative.
Yoga and Wellness in the workplace has many wonderful benefits;
Release of stress and tension, both physical and mental
Improved concentration and focus
Quietens the mind after a long day or prepares the mind for the day ahead
Improved posture, avoiding many injuries created by long hours sitting at a desk such as back, shoulder and neck pain
 Creates a happier more relaxed workforce leading to higher productivity and an enjoyable working environment.
Avoid Peak Traffic hours by coming in that bit earlier or leaving that bit later
To find out more about Yoga and Wellness in the workplace contact me here