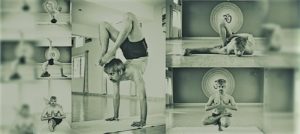 May 2nd – 4th @ Santosha Yoga Cork Glanmire, Crestfield Centre, Glanmire
It is with great delight and honor that for the third year I will be hosting my teacher Bharath Shetty from Mysore, India for a 3-day yoga workshop.
Bharath has been a source of constant inspiration and guidance in my own practice and teaching. This weekend promises to provide deep nourishment to those already on the yogic journey and those coming to yoga for the first time.
Born in India, Bharath studied with B.K.S. Iyengar, graduated from India Institute Vivekananda Kendra and from the Sivananda Yoga International Centre.
Since 2005, he's been living in Mysore where he teaches yoga students of all abilities and provides training for teachers. Recently, he started sharing his knowledge around the world and we will have the great opportunity to welcome him among us.
During the three days, Bharath will help you develop your personal skills, focusing on asana (physical practice) and philosophical aspects, considering yoga through the concepts of body, spirit, and breath. The workshop is open to all, from beginner to experienced students.
For more about Bharath Shetty please visit http://indeayoga.com/
Each workshop will comprise of 90min Asanas (Physical Practice) & 60min of Philosophy/Pranayama/Meditation/Mudras/Kriyas & also Q&A (Satsang)
Asana focus will vary each session, working the body in all directions to create balance. Please see schedule below for details.
Kriyas, Asana focus on 5 directional movements and the importance of breath coordination
Hip opening, Meditation & Satang (Q&A)
Forward bending, Meditation & Satang (Q&A)
Back Bending & Twisting, Yoga Nidra (Deep Relaxation) & Closing
Places are LIMITED, please book early to secure your place 
Full payment is required if you are attending for the half-day or full-day options, if attending the full a event a 50% non-refundable deposit is required to secure your booking. You can contact me
here
or on 0851803829.
Payment can be;
Cash ( if you attend regular classes)
Bank transfer (please reference you name)

Account Name: Santosha Yoga Cork

IBAN: IE10AIBK93638367676066

BIC: AIBKIE2D

Account Number: 67676006

Or PayPal (Slight higher fee for PayPal charges)
If travelling from overseas, the closest airport is Cork Airport, alternatively, Dublin airport is also an option but will require a 3-hour bus journey south to Cork. The Aircoach leaves directly outside Dublin Airport every hour and goes direct to Cork City
Glanmire, where the workshop will be held for the weekend, is 15 – 20 minutes outside Cork City, a bus service runs every 30 Minutes between Glanmire and the City Centre. Glanmire its self has a limited accommodation options on Air BnB and Booking.com but there is plenty in Cork City Centre.
There are several cafes and a deli's located close to the venue
Location