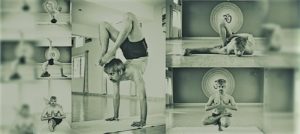 April 5th – 7th
It is with great delight and honor that I will be hosting my teacher Bharath Shetty from Mysore, India for a 3-day yoga workshop.
Bharath has been a source of constant inspiration and guidance in my own practice and teaching. This weekend promises to provide deep nourishment to those already on the yogic journey and those coming to yoga for the first time.
Born in India, Bharath studied with B.K.S. Iyengar, graduated from India Institute Vivekananda Kendra and from the Sivananda Yoga International Centre.
Since 2005, he's been living in Mysore where he teaches students and provides training for teachers. Recently, he started sharing his knowledge around the world and we will have the great opportunity to welcome him among us.
During the three days, Bharath will help you develop your personal skills, focusing on asana (physical practice) and philosophical aspects, considering yoga through the concepts of body, spirit, and breath. The workshop is open to all, from beginner to experienced students.
Schedule
Friday
19.00 -21.00 – General Techniques
Saturday
10.00 – 12.30 – Hip opening
13.30 – 15.30 –  Balancing and inversions, Satsang to close
Sunday
10.00 – 12.30 –  Back bending
13.30 – 15.30 – Transitions, Satsang to close
Booking & Cost of Investment 
€200 for 3 days
€100 for 1 day
€40 for Friday evening
€50 for half day on Saturday or Sunday
Places are LIMITED, please book early to secure your place,  a 50% non-refundable deposit is required to secure your booking, you can do so by contacting me here or on 0851803829.  Payment can be via  bank transfer ;
Account Name: Santosha Yoga Cork ,  IBAN: IE10AIBK93638367676066 BIC: AIBKIE2D ACC NUM: 67676066
Or PayPal (Please be advised that the PayPal method of payment will be at a slightly higher charge due to PayPal fees)
For more on Bharath Shetty, indeayoga.com
Lunch 
There will be a light lunch on offer Saturday & Sunday at an additional cost. Lunch will be provided by Loving Salads Cork.
Location of The First Fruits Art Centre, Watergrasshill, Co, Cork